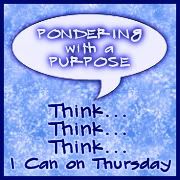 "/>
The rules are really easy:
1. Grab the Pondering with a Purpose Badge
2. Look at the week's prompt
3. Post something on your blog that relates to the prompt - it can be a story, a poem, a picture -- anything you want it to be.
4. Come back here and add the URL from your post to the linky list below.
5. Go check out the other bloggers who have added their links to the list.
6. AND most of all.... Have fun!
This Week's prompt:

Memories
Do you have any memories that would be fascinating for someone else to read about in one hundred years? or even ten?
My memories are strong. I am 47 years old and I can still picture the house we lived in when I was 4 years old. I can even go back to being 2 but those are somewhat spotty. I can still remember the sound of my moms thick accent voice as she tried to pronounce certain words in English. My children will say they do not remember things when they were little and I know that was my fault they erased those thoughts and images. But I know they were later replaced with good memories just like they did for me, they are my happy thought/memory.
I do feel like I have a memory like an elephant, it has been said to me by numerous friends and family, but what does that saying really mean? Elephants make a journey that even in impossible conditions they do not forget how to get there and I know my story is that like the elephants it will be fascinating and it will be remembered at least by me.