Happy List 11.27.12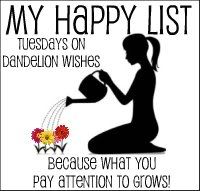 I have missed/skipped this for the last few weeks... a couple reason, 1) I was not happy about changing my blog, 2) things are not going well medically for me 3) I am not a fan of this time of year....WHEW I know that is going to set it off but I am prepared for whatever!
This week isn't ANY better but I am going to go and find at least something to be HAPPY about and list!!! Here goes........I am HAPPY that some of my best blog buddies are following me here after all.
I am HAPPY to be planning the "SOUP OFF" holiday competition at work which also includes our annual UGLY sweater contest.
I am HAPPY to have the Lord in my heart!!