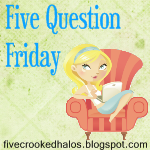 Welcome to Five Question Friday!! You've come to the right place if you want a fun, easy post or if you've suddenly discovered your muses are busy enjoying their new SoundDock.



Rules for 5QF: Copy and paste the following questions to your blog post, answer them, then watch for the linky post to appear Friday morning and LINK UP!

Oh, and remember (pay close attention...this is the important one)...HAVE FUN!

Questions for Friday, December 28th: (Special thanks to Stephanie (@stephanielex) fromOn My Mind, Pam (@trooppetrie) from Troop Petrie, and Kate (@katieb38) from Kate's Life
for
these 5QF
question suggestions! I would love to link you in a future 5

QF

, so come on over to my community or watch for my Thursday afternoon shout out for questions on Twitter and offer up your best question suggestions! Remember to @5

crookedhalos

me and use

hashtag

#5

QF

if you go the Twitter route!)
1.
Have you set any goals/resolutions for 2013?
2.
Have you made any travel/vacation plans for 2013?
3.
What room is never cleaned in your house?
4. W
hat food must be in your house at all times?
5.
Are you a hugger or more of a hands off person?
1. Nope I am not a resolution type of person they have back fired on me in the past so I wait a few months into the year when others are falling off theirs and step into the motivation guru friend it is a win ...win!!
2. i have huge travel plans for this year, Hawaii at my brothers new place, Tennessee at my oldest sisters, and several road trips with my sister here in Cali. and spending some time with my aunt in Arizona.
3. the room we call the office, it is off the kitchen, it was an add on sun porch but enclosed so I put my desk (which I can't get to because of all the things put in front of it) out there and then the extra fridge that we do not use or have plugged in, extra folding chairs, Christmas decorations, vacuum, crafts supplies, & the dog crate oh & the recyclables. So much clutter.
4. CEREAL..... the hubs and 10 yr. old will have cereal anytime of day, it is a blessing when I do not want to cook.
5. It really depends on the person...I love a good hug but not from the wrong person or a luke warm hug because you just seen everyone else give me a hug and I know that you know that I know that you and I don't really like eachother but if we don't hug then they will know what we know and so ewww we hugged. BUT FOR THOSE I LOVE OR EVEN LIKE ALOT PLEASE HUG AWAY HUGGIE HUGGERSON!!!