Pondering with a Purpose - Time flies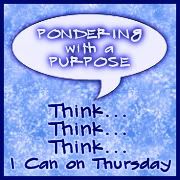 This is Brenda's weekly hop where she posts a prompt and you get to write to it on your - come back here and add it to her linky and then we all get to go read what you wrote!
She started Pondering with a Purpose because -- simply put -- Sh's a writer - - that is what she does ! And although I love following all the hops, I wanted to see if I could bring out some creativity in not only myself, but some of my blogger friends as well.
The rules are really easy:
1. Grab the Pondering with a Purpose Badge
2. Look at the week's prompt
3. Post something on your blog that relates to the prompt - it can be a story, a poem, a picture -- anything you want it to be.
4. Come back here and add the URL from your post to the linky list below.
5. Go check out the other bloggers who have added their links to the list.
6. AND most of all.... Have fun!
Do you seem to think that time is flying by? Obviously when we are the middle of a crisis or a tough situation it seems to be creeping and crawling.... that's not what I'm talking about... I'm talking about time as a whole...
I am one of the worst when it comes to time. I was always late, always setting the time ahead 10 minutes to help me get better
but I knew the clock was 10 minutes a head and I still accounted
that extra time in and arrived late.
My life changed when I got the business I had to be an example
and I had many people depending on my time, all of a sudden, it
caused great stress, but I did get better about managing time and
Time is once again knocking on my door making me want to just
take the batteries out to stop it from clicking away. Where does the time go? why does it have to sneak up on me so suddenly? How did
When my husband worked construction he constantly said no to people asking favors, I was confused....why would you say no to so-so who asked you to help him with something? Hubs would say flatly my time isn't free, i have a family and they need me on my time off not a bunch of young guys sitting around a side job drinking beer expecting me, the old dude, to show them how to do it while they watched....simple they couldn't afford what I charge for my time if it takes me away from my family. Now a bon-a-fide favor totally different.
Time is chasing me around the house on a regular bases, sometimes with my pants down sometimes with them up but I feel the pressure of time running out for me daily and I want to scrunch and scramble to do so many things in quickly so I am on a time roller coaster that I am not sure how long I will be riding but as I am I know I have lots of you riding it with me so I am not afraid.