Pondering with a Purpose - Love thyself?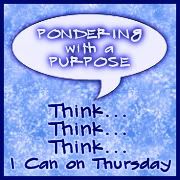 Welcome to Pondering with a Purpose
-
This is my weekly hop where I post a prompt and you get to write to it on your - come back here and add it to my linky and then we all get to go read what you wrote!
I started Pondering with a Purpose because -- simply put -- I am a writer - - that is what I do (I just can't help myself)! And although I love following all the hops, I wanted to see if I could bring out some creativity in not only myself, but some of my blogger friends as well.
The rules are really easy:
1. Grab the Pondering with a Purpose Badge (in my sidebar)
2. Look at the week's prompt
3. Post something on your blog that relates to the prompt - it can be a story, a poem, a picture -- anything you want it to be.
4. Come back here and add the URL from your post to the linky list below.
5. Go check out the other bloggers who have added their links to the list.
6. AND most of all.... Have fun!
This Week's prompt:
Love thyself
Do you love yourself?

To love ones self is probably a double edge sword for some. To often from the outside it looks as if one is vain or so into themselves they only think of themselves, but do not mix that up with being self-centered or selfish. When we spend money on ourselves because we deserve it or it makes us feel better about ourselves somehow is that because we love ourselves and deserving of a little treat in the way of a new handbag or shoes? No!!! Many people get this concept confused... to love thyself in my opinion, is to care enough about ourselves that we feel and give love openly. We care for ourselves not in material ways but in emotional ways.
as a child of severe abuse, bounced around in foster care in my teens. I had a hard time with self love for ME. I know what rejection feels like in the worst way but for me to reject myself would be even worst.
I do have love for myself an over abundance of it because somebody has to love me.....if not me then who??